YAWECO - TOOTHBRUSH MEDIUM NYLON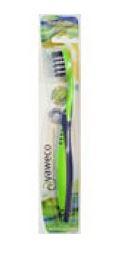 Yaweco - Toothbrush Medium Nylon
---
---
The modern design of Yaweco Toothbrush is available in Nylon and has a medium-firm replaceable brush head. The rounded, low and high setting of bristles of the brush head effectively clean the back teeth and interdental areas. Yaweco toothbrushes are free of PAHs, phthalates, heavy metal.
It is quick and easy to change the Yaweco replaceable toothbrush head - just press the white button on the back of the toothbrush.

When the toothbrush head is removed it can then be used as a tongue cleaner.

The yaweco toothbrush comes in an assortment of colours, we cannot specify which colour is available at the time of ordering.

Yaweco toothbrushes are made in Germany.
Packaging; Biodegradable
Toothbrush size approx; 190mm
---
The item has been added to your basket