YAWECO - MEDIUM NYLON REPLACEMENT TOOTHBRUSH HEADS PACK OF 4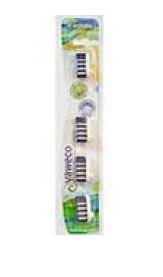 Yaweco - Medium Nylon Replacement Toothbrush Heads Pack of 4
---
---
Yaweco Replaceable Toothbrush Heads made of nylon for medium firmness. Rounded bristles and low and high bristle groups to effectively clean the back teeth. Yaweco Toothbrush head will clip onto any Yaweco toothbrush.
Please note the Yaweco clip on mechanism is different to the Monte Bianco clip on system.
Therefore Yaweco toothbrush heads cannot be attached to a Monte Bianco toothbrush.

Remember to replace the toothbrush head every 3 months.

There are 4 toothbrush heads in every pack.

How to use Yaweco Toothbrush Brush Heads

Its quick and simple, just press the white button on the back of the toothbrush head and the head will come away from the toothbrush. Then simply clip on the replaceable head with a new Yaweco Toothbrush Brush head.

Additional Information

Yes Yaweco toothbrushes have been tested to ensure they are safe to use.

Yes Free of PAHs,

Yes No Phthalates

Yes No Heavy metal.

Yes Yaweco replaceable toothbrush heads are made in Germany.
Packaging: Biodegradable
---
The item has been added to your basket