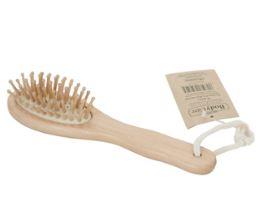 Wooden hair brush
---
---
The natural way to brush your hair.
Small size length 18cm including handle, brush head approx 8cm
Wooden brush, wood pins, synthetic base
The wooden pins are great for brushing tangled knots from your hair without the pulling and tugging which can often happen when using weaker plastic hair brushes. The wooden pins also gently distribute the naturally occurring sebum (and any other oils or treatments that you may apply) and help to improve circulation around the scalp.
---
The item has been added to your basket