WELEDA COMBUDORON OINTMENT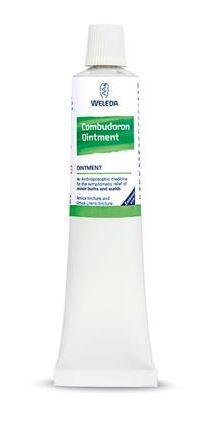 Weleda Combudoron Ointment
---
---
Size; 25g
A natural ointment traditionally used for relieving burns and scalds. Weleda's Combudoron Ointment contains nettle and arnica extracts to cool and soothe your skin whilst helping to relieve pain. A natural addition to your first aid kit.

How to use Weleda Combudoron Ointment; Adults and children (6 years and above): Apply to the affected part directly or on a dry dressing, or as directed.
Check that the tube seal is not broken before first use. Pierce the tube seal with point in end of cap.

Warnings and precautions: Always read the label.
Consult your doctor or pharmacist if you are allergic to any of the ingredients or to other plants in the Asteraceae (Compositae) family, you experince redness or itching, the symptoms persist, you are pregnant.
Wool Fat (Lanolin) may cause local skin reactions (e.g. contact dermatitis).

For external use only.
Do not store above 25°C.
Do not use after the expiry date stated.
Keep all medicines out of the sight and reach of children.

Ingredients:
100g contains: ethanolic extracts from Arnica Planta tota 0.24g, Urtica urens Herba 4.56g in a base containing Wool fat (Lanolin), Yellow Beeswax, Wool alcohols, Olive oil and Sunflower oil. Nominal ethanol content 3.75% v/v.
Suitable for vegetarians.
Packaging; Recyclable tube. Check Local Recycling for kerbside collection.
---
The item has been added to your basket