TRADITIONAL CERAMIC FRAGRANCER/OIL BURNER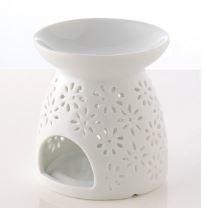 Traditional ceramic fragrancer/oil burner
---
---
Safe and secure, made with a solid base so that they won't wobble or fall over. The fragrancer has a recess for a tealight candle and a large bowl on the top for you to add water and oils.

The oil is gently heated encouraging the release of the aromatherapy qualities and infusing your space with gorgeous aromas and the wonderful health-giving benefits of the essential oils.

With  a pretty floral design which allows the candle light to shine through. If you use them in a darkened room then the pattern of the fragrancer is thrown on to the wall creating a relaxing and gently hypnotic ambience.

To use simply half fill the bowl with water then add 6-10 drops of essential oil (depending on the oil - some are much stronger than others and need only 1 drop).
Great for warming essential oils
Safe and easy to use
Beautiful aromas with candlelight

Safety; Always take great care when using any of these products. Use a heatproof surface and always site your dish well away from flammable materials. Never leave the item unattended. Keep out of reach of children. Ensure item is extinguished fully.  
---
The item has been added to your basket