Natural Pet Vitality is a dietary supplement for all animals (and humans) containing a rich source of Fulvic Acid Minerals, which have been known for centuries to have amazing natural healing abilities on all forms of life.
300g

It is only when toxins are allowed to accumulate and build up in your animal's system, and when there is a lack of essential nutrients in the diet, that disease and problematic behaviour occurs. Fulvic Acid not only provides all 75 trace minerals that every living cell needs in order to thrive and be healthy, but also crucially REMOVES toxins from the cells, allowing them to function properly.

Research and testimonials show that this new Fulvic Acid product may be useful for digestive health, joint health, coat conditioning, energy and increasing vitality to older pets.
Fulvic acid is completely natural and organic, formed over millions of years via microbial metabolism of decaying vegetation. It is involved in the same process which forms coal and eventually diamonds, and are thus an integral part of the carbon cycle.


The Natural Pet Vitality and Human Fulvic products we sell are made from one of the richest sources of fulvic acid which is mined from deep within the earth in New Mexico.

Fulvic acid is one of nature's most powerful electrolytes. It has the ability to balance the electrical chemistry of cells providing conditions for optimal health. An increasing amount of research into Fulvic Acid shows these benefits. For example, Dr William R. Jackson (in the video below) has shown that when given to plants, fulvic acid can enhance the immunity to such an extent that insects or parasites cannot even land on the leaf, let alone take a bite.
Why Are Animal's So in Need of Fulvic Minerals?
Most commercially prepared pet foods contain many ingredients that are low in nutrition and high in toxicity and when these are continually fed over a period of time, they can have serious consequences to the animal's overall health and well-being. Changing the animal's diet to raw natural foods, which they were designed to eat, will mean that their health improves significantly over a short period of time.

TESTIMONIALS: 

Pet owners who regularly supplement their animal's diet with fulvic acid have reported the following changes & benefits:

Dogs:
Improved immunity & overall health.
Improved digestion.
Increase in speed of healing.
Increased muscle definition.
Increased energy in older dogs.
Improved joint & bone health.
Shiny glossy fur.
Sparkling eyes.
Improved behaviour.
Decreased parasite infestations including: Fleas, Ticks & Worms.
Cows & Poultry:
Increased milk production
Improved joint health
Increased egg hardens
Decreased worm population
Decreased fly population
Improved digestion Increased feed efficiency
Decreased Ammonia in manure
Improved feather condition

Horses:
The benefits of Fulvic acid supplementation for horses are similar to that of any animal. Many conditions which horses suffer from are not 'normal' and can be easily prevented by applying balanced nutrition and preventing a prolonged accumulation of toxins. The following diagram is a summary of benefits reported by equine enthusiasts who are using Fulvic acid as part of their daily feed regime. We would suggest the 500gm or 700gm tub of Natural Pet Vitality for your Horse or Pony.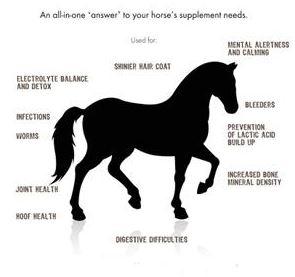 How Does Fulvic Acid Work at Helping with Detoxifying the Animal's System?

As the animal undergoes a change in diet, a detoxification process will occur where their internal systems will start to release the stored fats and unhealthy toxins that the processed foods contain. The animal may also need to detox from any harsh prescribed medications such as vaccines, flea treatments, antibiotics, steroids and painkillers etc. Fulvic acid contains natural liver enzymes that will help the body's elimination organs, such as the liver, kidney and skin, to release all these toxins safely.

The toxins naturally bind to the fulvic acid so it can be easily eliminated. Fulvic acid also contains naturally occurring pro-biotics which can aid in keeping the digestive tract and gut flora healthy, which in turn will boost the immune system, and therefore is crucial to give to an animal after it has taken any prescribed medications such as steroids, antibiotics or pain relief medication.

So, Fulvic acid can balance mineral deficiencies or excesses by evaluating the needs of the cell, thus providing optimal nutrition required for healthy cellular processes, and reducing the risk of disease. The oxygen content of Fulvic Acid is also vital to its health giving properties and no other nutrient possesses and transports bio-available oxygen directly into our cells. It is this aspect of Fulvic Acid which allows it to be useful for athletes and sportspeople. Prolonged use of Fulvic Acid has allowed athletes to train harder and recover quicker due to a decreased oxygen debt following exercise and this same effect has been observed in race horses.
Directions:
f your dog or cat is on a  natural & raw food diet, then we suggest adding the required amount of NPV to a few drops of bottled or purified water and then whisking one raw egg with the mixture and serving as a protein drink for your animal, 5 mins before you feed your animal's  main meal. Supplementing before food will encourage the digestive enzymes to work before food enters the digestive system.

Dosage For Dogs & Cats:
Can be added to a pet's regular food.
For best results mix required amount with a few drops of bottled water and add mixture to one beaten raw egg and serve 5 mins before feeding your pets meal.
Do not add to heated food as heat will destroy the elements of this product and it will not be as effective.

Toy Dogs/ Puppies/Kittens:
1/4 level teaspoon.
Small Dogs & Cats:
1/2 level teaspoon.
Medium Dog Breeds:
3/4 level teaspoon.
Large Dogs:
1 level teaspoon:
Small Pet Mammals: Rats, Mice Guinea pigs, Rabbits & Ferrets:
1/2 level teaspoon added to feed as required.
Birds:
Add 1/4 teaspoon into feed or water supply as needed.
Horses & Ponies:
The 500gm and 700gm tubs come with a  25ml measuring scoop.
Small Horses & Ponies: 2  level scoops added to daily feed.
Large Horses: 3 level scoops added to daily feed.

Ingredients:

Fulvic acid; digestive enzymes; probiotics; trace mineral electrolytes; brewers yeast; bakers yeast; Ash: 85.7%; Moisture: 7.4%; Fibre: 4.2%; Protein: 0.5%; Oil 0.4%.

Silicon Dioxide, kaolin, fulvic acid, dried yeast, (dried bakers yeast, dried brewers yeast), enzyme mix (fungal protease, acid protease, gluco amylase, lipase,  cellulase, lactase, maltase, invertase), probiotic mix: (B.bifidium, Binfantis, Blongum, Efaecium, Lcasei, Lbulgaricus, L.plantarum, L.rhamnosus, Sthermophilus).
OMRI Listed. FDS approved and USDA Approved as The Livestock Answer.