METAL TRADITIONAL OIL BURNER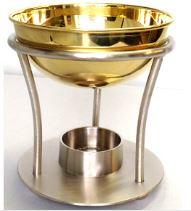 Metal Traditional Oil Burner
---
---
Contemporary design candle powered oil burner. With a solid pewter base and a large brass bowl. Bowl is easily removable for cleaning. Standard nightlights or tea lights will fit.

To use simply half fill the bowl with water then add 6-10 drops of essential oil (depending on the oil - some are much stronger than others and need only 1 drop).
Safety; Always take great care when using any of these products. Use a heatproof surface and always site your dish well away from flammable materials. Never leave the item unattended. Keep out of reach of children. Ensure item is extinguished fully.
---
The item has been added to your basket