Size 40g  Height: 2.6cm, Diameter: 5.72cm 
A 100% natural room refresher free from chemicals and irritants. Incognito's room refresher has a natural pine and citrus fragrance, it can be used in place of chemical plug ins or mosquito coils.  Once opened it will keep your room insect free for approximately 3 weeks if used continuously, replacing the lid can increase the life span up to 3 months. The aroma released by the Java citronella significantly helps to reduce your attractiveness to insects, which is particularly useful for night-time use.  
100% Natural

No GM

Cruelty Free

Chemical, irritant and paraben free.

Platinum Award Winner 2016

Vegan
Registered with the Vegan Society.
Discover more about the brand Incognito.
How to use Incognito's Room Refresher; Open lid and place on the floor. For complete protection anywhere in the world, use in conjunction with incognito®'s Spray, Suncream and other repellent products. Being extremely lightweight and compact, it is the perfect companion for backpacking trips, as well as tent and caravan use. Combine with incognito® Incense Sticks for indoor and outdoor protection. The incense sticks should be used prior to remove any insects present and the room refresher will keep insects out.
Ingredients: Garlic oil, pine oil, camphor powder, geraniol, organic Java citronella.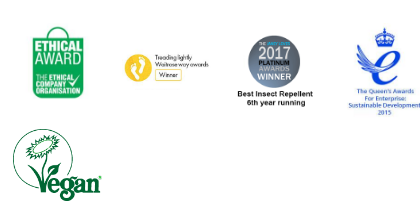 Packaging; Recyclable plastic tub.