Size 50g
A long lasting and 100% natural crystal deodorant with a fresh citrus fragrance. Incognito's Natural Crystal Deodorant is the first alum crystal to be infused with an essential oil. This deodorant is light weight, compact, ideal for travel and can be used by the whole family including babies from 3 months old.  Due to the rare Java Citronella oil it contains it significantly reduces your attractiveness to insects, unlike ordinary deodorants. For complete protection anywhere in the world, use in conjunction with incognito®'s Spray, Suncream and other insect repelling products. 
100% Natural

Boosts Protection against Insects

No GM

Cruelty Free

Free from irritants, parabens and SLSs

No aluminium chlorohydrate
Suitable for Vegans. Registered with the Vegan Society.
Discover more about the brand Incognito.
How to use Incognito's Natural Crystal Deodorant; Dampen before use. It also has repellent and anti-bacterial properties which helps in the battle against keeping insects away.
Ingredients; Ammonium alum, aqua (water), cymbopogon nardus (citronella) oil. Sustainably packed.
Does not contain aluminium hydrochlorate.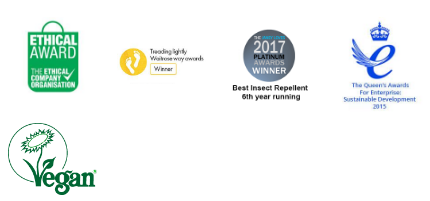 Packaging; Recyclable bottle.