IF YOU CARE - PACK OF 5 100% NATURAL SPONGE CLOTHS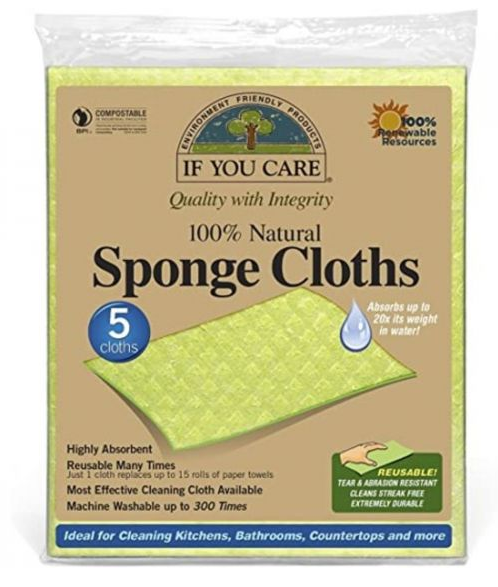 If You Care - Pack of 5 100% Natural Sponge Cloths
---
---
Pack of 5
If You Care, natural sponge cloths are made from a blend of cellulose, non GMO unbleached cotton and mirabilite. Mirabilite is a natural mineral salt which is washed out during production leaving a blend of 70% cellulose and 30% cotton.  If You Care sponge cloths are extremely absorbent and can absorb up to 20 times their own weight in water. These durable cloths provide streak free cleaning and can replace up to 15 rolls of paper towels.  Packaged in cellophane style plastic free packaging derived from cornstarch. Certified compostable the cloths can be composted via municipal or backyard facilities. The packaging can be composted via commercial municipal composting facilities.
Plastic Free
100% Natural
Machine Washable 190°F (88°C)
Can be washed upto 300 times
Compostable
How to use If You Care Compostable Sponge Cloths: Rinse and wring out excess water to increase absorbency. Use with water, soap and water, or household cleaners.  After using, rinse thoroughly, wring out and leave flat to dry. Can be washed at temperatures up to 190°F (88°C) in dishwasher or washing machine with normal loads. Do not use chlorine bleach or chlorine products.  Leave to air dry. Do not tumble dry.
Packaging - Natural packaging compostable
---
The item has been added to your basket