Size 100g
A hand made Chocolate soap with 100% natural ingredients. Faith in Nature have made a luxurious blend using Organic Cocoa bean extract infused with vanilla to nourish your senses.
100% Natural Fragrance

With Extract from Organic Cocoa Beans

Free from Parabens and SLS
All of Faith in Nature's products are GM free.  

IngredientsSodium palmate***, Sodium cocoate*and/or Sodium palm kernelate***, Aqua, Glycerin*, Theobroma cacao extract**, Vanilla planifolia fruit extract*, Sodium chloride, Sodium citrate*, , * Vegetable derived , ** Organic ingredient, *** Certified sustainable origin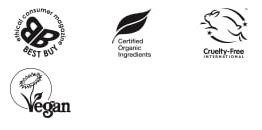 Faith in Nature and palm oil. 
Faith in Nature never include palm oil into their products, but some of their ingredients are manufactured using palm oil as the base.
Where practical alternatives exist, they are switching to non palm oil or they use certified sustainable palm oil, and have recently made this switch covering over 100,000kg of ingredients per annum. Also all of their soaps are manufactured with sustainable certified palm oil from properly managed and sustainable sources, which cause no concern to animal life.
Packaging; Recyclable. Check local recycling for plastic wrap.