21

Mar

How to Attract Hedgehogs into Your Garden
---

Spring is here and the humble British Hedgehog will be emerging from hibernation.
Whilst growing up, hedgehogs were a common sight in our garden but now the only ones we seem to see are the unfortunate ones that didn't make the road crossing!
The sad fact is that the British hedgehog population is in decline with urban populations falling by up to 30% and rural populations by at least 50% since the turn of the century. You can help protect our hedgehogs by making your garden hedgehog friendly. Even the most simple addition of a piece of board propped against a wall can make a welcome artificial home.
You can give hedgehogs a head start this spring by doing the following;
Leave a patch of your garden wild, add some leaf litter and logs where they can find slugs and beetles for food.
Feed them, leave out fresh water and foods like tinned dog or cat food (not fish-based) and crushed dog or cat biscuits. (Never give milk) This used to be a common practice to leave hedgehogs bread and milk but it can cause diarrhoea.
Make your garden safer, cover any drains and holes and place bricks at the side of ponds to give hedgehogs an easy route out. Cover swimming/paddling pools overnight and when not in use.
Make a gap, leave a small space under the fence so they can enter and leave easily.
Before mowing or strimming, check for hedgehogs particularly under hedges where animals may rest. Check compost heaps for nesting hogs before forking over.
Build bonfires as close to time of lighting as possible and check them thoroughly before lighting.
Remove sports or fruit netting when not in use to prevent hedgehogs becoming entangled, and getting injured.
Slug pellets can poison hedgehogs and should only be used as a last resort. Instead try using one of many "natural" alternatives, like sprinkling crushed eggshells or coffee grounds around the plants you need to protect. If you have to use pellets, place them under a slate which is inaccessible to hedgehogs.
Make a donation; Hedgehog rescue centres are commonplace and they need all the help they can get. Find your local rescue centre and offer support by way of donation or adoption. You may even be able to foster your own hedgehog.
If you find a hedgehog that has been injured or orphaned always contact a wildlife or hedgehog rescue centre for advice.
Watch the video of 3 very cute but sadly orphaned baby hedgehogs being cared for by the
Wildlife Aid Foundation.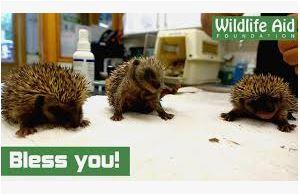 Wildlife Rescue Centres need our support
Useful links
https://www.britishhedgehogs.org.uk/
https://www.happyhedgehog.org.uk/
It's Hedgehog awareness week from the 5th - 11th of May
https://www.britishhedgehogs.org.uk/hedgehog-awareness-week-2019/